Rotate
the plane to see
the illustrations.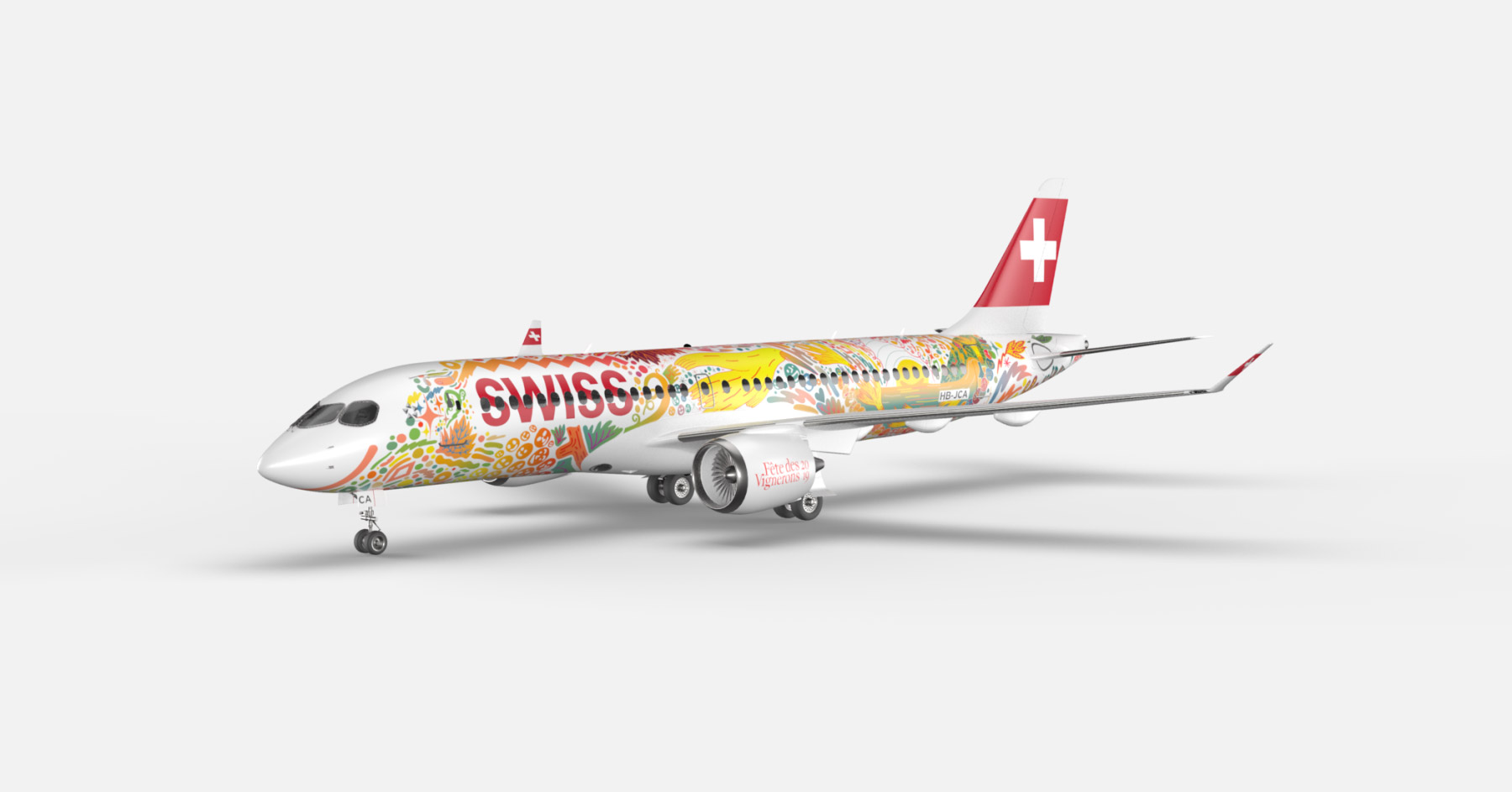 Loading...
The new livery
Created by the artist Mathias Forbach – alias Fichtre, this new livery embodies the "Fête des Vignerons" spirit and draws on characteristics that make Suisse romande so unique.
The illustrations as a whole reflect the cycle of the seasons that highlights the nature and culture of the wine. On one side of the aircraft, the colours used are warm, representing spring and summer. The other side evokes autumn and winter with a mixture of colder colours. They meet below and above, symbolising the continuity and cyclical aspect of the seasons.
Nature plays a vital role in the artist's composition, particularly the elements of the landscape of the Vevey region where the Fête des Vignerons takes place : the lake, the vineyards, the autumn leaves, the grapes. The illustrations also include a crucial element of the visual universe of the Fête des Vignerons : the starling. This bird that flies in flocks over the vineyards in autumn represents a fascinating sight and announces the beginning of the harvest.
The specially-liveried SWISS CS300 will be deployed throughout Europe over the next nine months. The aircraft will serve 42 destinations from Geneva including Palma (in summer), St. Petersburg (in winter) and Dublin (all year round). And it will carry over 150,000 passengers in its festive colors.
A flying tribute created by a Suisse romande artist
Having already created the l'« Suisse romande plane » in 2017, Swiss artist Mathias Forbach, also known as Fichtre, was chosen once again to create this tribute in the Fête des Vignerons 2019 colours.
Originally from Vevey, this artist is among those who were raised with this tradition from early childhood; something that was a key source of inspiration for the creation of this new flying masterpiece.
« 

As an artist and an illustrator, I love the idea of a coherent whole but also of shapes. I wanted the freedom of form and the movement to be felt on the whole of the two sides. And that's what the Fête des Vignerons is

 :

a show, a coherent whole that is made up of thousands of people all on the move.

 »
« 

In my first livery for the Romandie, it was the words that were the guiding threads, and everything came from a smile. Here it's the colour, the life and the festival that emanate from the smile

 »
« 

The challenge was to create a link between the two sides that meet up at the top, like a combination of coloured elements which are festive and which have their own sense and meaning in this huge, fluid movement.

 »

— Mathias Forbach (Fichtre)