Use your phone to bring our livery to life!
Visit your smartphone's app store and download the free "Avion SWISS" app. Then follow the instructions to scan the images below and, through the magic of augmented reality, discover the stories behind them.
These illustrations come to life with the "Avion SWISS" application.
Rotate
the plane to see
the illustrations.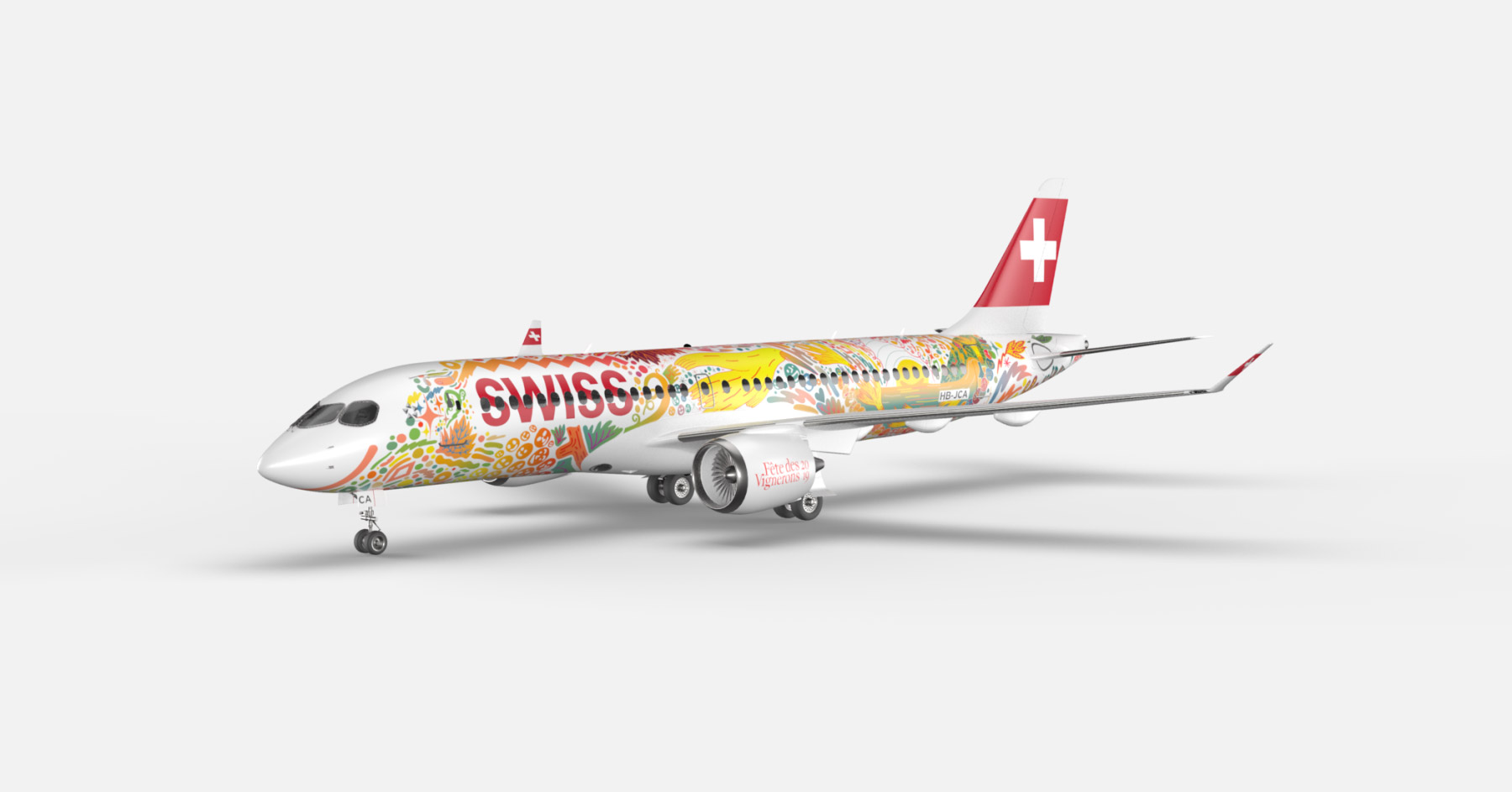 Loading...
The new livery
Created by the artist Mathias Forbach – alias Fichtre, this new livery embodies the "Fête des Vignerons" spirit and draws on characteristics that make Suisse romande so unique.
The illustrations as a whole reflect the cycle of the seasons that highlights the nature and culture of the wine. On one side of the aircraft, the colours used are warm, representing spring and summer. The other side evokes autumn and winter with a mixture of colder colours. They meet below and above, symbolising the continuity and cyclical aspect of the seasons.
Nature plays a vital role in the artist's composition, particularly the elements of the landscape of the Vevey region where the Fête des Vignerons takes place : the lake, the vineyards, the autumn leaves, the grapes. The illustrations also include a crucial element of the visual universe of the Fête des Vignerons : the starling. This bird that flies in flocks over the vineyards in autumn represents a fascinating sight and announces the beginning of the harvest.
The specially-liveried SWISS CS300 will be deployed throughout Europe over the next nine months. The aircraft will serve 42 destinations from Geneva including Palma (in summer), St. Petersburg (in winter) and Dublin (all year round). And it will carry over 150,000 passengers in its festive colors.
A flying tribute created by a Suisse romande artist
Having already created the l'« Suisse romande plane » in 2017, Swiss artist Mathias Forbach, also known as Fichtre, was chosen once again to create this tribute in the Fête des Vignerons 2019 colours.
Originally from Vevey, this artist is among those who were raised with this tradition from early childhood; something that was a key source of inspiration for the creation of this new flying masterpiece.
Behind the Scenes
Decorating a whole aircraft is a sizeable challenge. A team of 13 people spent no less than 36 hours carefully placing over 300 square metres of stickers onto the fuselage. Here's a behind-the-scenes glimpse at this major undertaking, along with some previously unseen images of the moment the new livery was unveiled.
Model "Fête des Vignerons" CS300 now on sale
Would you like a lasting souvenir of the spectacular flypast at this year's Fête des Vignerons on 1 August? Our CS300 HB-JCA in its striking special livery is now available in model form.
Order the model